Welcome to the enhanced Xfinity Connect webmail
We've been hard at work creating our best version yet.
We're committed to improving our services in ways that make your life easier, simpler, and fun. Our new webmail experience is no exception. The redesigned Xfinity Connect webmail is intuitive, simple and efficient. Just the way you want it.
Xfinity Connect webmail just got a major makeover. Take a look at our new and improved features we think you'll love:
New, modern design
Clean and intuitive toolbar
Quick reply function
Group distribution lists
Drag & drop recipients from 'To' to 'cc' or 'bcc'
So what do you get with Xfinity Connect?
Email
We've added some little features that create a big impact. The new Compose window, Quick Reply, Drag & Drop and Full Text Search will improve efficiency and streamline everything you do on webmail.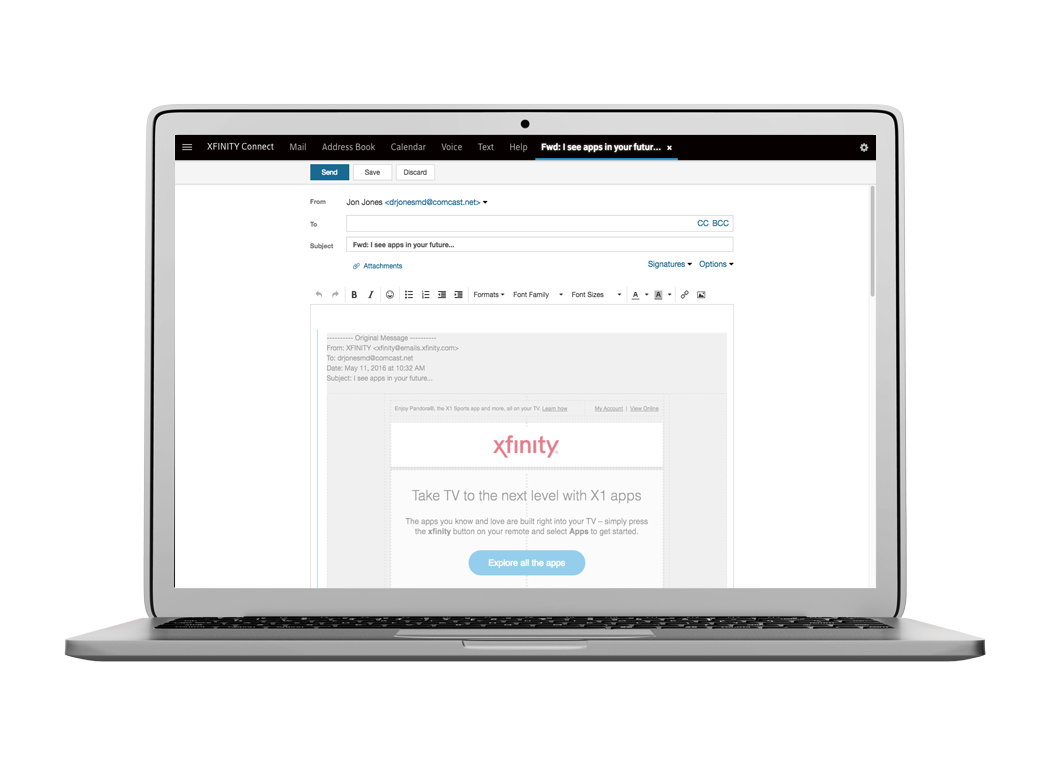 New & Exciting Features
Halo View
Xfinity Connect webmail features Halo View, a one-click information resource that gives you handy details right away. Just click on an email address to get full contact details and a quick overview of your correspondence. It's simple, comprehensive and practical tool we think you're gonna love!
Full Text Search
With Xfinity Connect webmail, you can find what you're looking for in a snap. Search by email address, subject line, name or text in the body of an email. That's what we call super simple searching!
Inbox Views
Make your inbox your own. It's easy with Xfinity Connect webmail – just select your preferred inbox layout. Choose from List, Vertical and Horizontal views. Xfinity Connect webmail will even remember your preferred views for you.
Quick Reply
Want to send a short response to an email? Quick reply is a convenient shortcut that allows you to send a small message in just seconds. Just hit the "Quick reply all" button and a nifty little text box will appear!
Email Compose
We've redesigned the compose feature to make creating an email even better. Our new look features a clean compose window that removes any visual clutter. It's a beautiful, intuitive way to start sending messages.
Drag & Drop
Adding attachments has never been easier – just drag and drop them into your compose window. You can even insert the attachment directly into the email text (HTML only). And of course, you can also attach a file by browsing through your local file directory.
Groups distribution lists
Need to update your book club? Create a distribution list directly from an email. That way, you can easily send messages to a group of friends, family or colleagues. Or start a new thread by clicking on "send a new email" to the group.